Feeling Sexy, Empowered, and Boosting Your Self-Esteem
I've always enjoyed plus size boudoir sessions.  Society tends to have a rigid definition of an ideal weight or body size and shape.  I love challenging that notion and proving that every body size and shape is equally beautiful and that every woman is gorgeous in their own special way!
I get enquiries every week from women who are concerned about their size, worried that they need to lose weight or tone up before they schedule a boudoir session with me.  Women of all ages, shapes and sizes are GORGEOUS – the body we are born with is the one that we should strive to be proud of.  You deserve to be cherished and celebrated.  Read on to find out how we photograph plus size models in the most flattering way.
How We Approach Flattering Plus Size Boudoir Photos
Your exciting and empowering journey begins when you contact us.  We will reach out and provide you with helpful information and we'll schedule a consultation session (via email, phone call, or zoom session), where we will answer all your questions and also discuss the most important subject – YOU!  We'll find out what you feel are your best attributes, what areas you're sensitive about, what your interests are, and also what attributes your mate loves most about you.  With that information, we're able to tailor an experience to you and ensure you feel pampered and empowered throughout your boudoir experience.  
Please browse through our portfolio to see examples of how we use the concepts below to capture beautiful images of gorgeous women like you!
Shaping and sculpting light is the basis for all photography.  We have years of experience shaping light to capture your natural glamour.  We use the power of shadows to cause problem areas to "fade away", while directing light to capture your radiant beauty and elegance.
Posing is one of the most important elements of boudoir photography.  By posing you in a way that minimizes problem areas and emphasizes your most alluring attributes, we guarantee you'll love your photos.  We're experts in posing all body types and sizes and will make sure every picture captures you in the most flattering, sexy, beautiful way.  We will pose you in a way that will flatter your individual body type and ensure every photo captures the full extent of your beauty and personality!
Camera Angles and Cropping
Camera angles and creative cropping have always been an effective tool to create the most flattering portraits.  Camera angles are used to conceal problem areas, emphasize the most flattering areas, and are used to draw the eye to the areas we want to shine!  Likewise, cropping is used to remove less flattering or distracting elements from the photo and control and focus attention where we want the eyes to linger.
Using props is a fun and effective way to achieve flattering photos.  Furniture, blankets, paper fans, shirts or coats, etc. can all be used to conceal problem areas, and can help create alluring, tantalizing memories.  This is especially true if the props have some meaning to you or your mate – a favorite sport or sports team, a hobby or interest, etc.  I always encourage my clients to bring personal and meaningful props to a session to incorporate into the photos.  It's a fun and playful way to let your personality shine!
Boudoir Outfits for Plus Size
If you are choosing lingerie, make sure you have selected it in advance of your shoot and have an idea of how it will look on your body.  Your photographer will often work with you to select the perfect boudoir outfits for your body type. A pretty robe, luxe jewelry and hair accessories could be helpful to have on hand as well.  Flattering plus size boudoir outfits could also include:
Bodysuits – A well-chosen bodysuit can be a fantastic way to accentuate the body's curves.  Make sure to pick something appropriate to your size that is comfortable and easy to move around in.


Oversized shirts – If you aren't into fancy lingerie or want a more casual shoot, an oversized shirt is an easy option to capture a sensual look.


High heels – Heels add length to the leg and can be used to draw the eyes along all the right angles in a well-posed photo.


High waist panty and bra set – If you don't want to spend money on other lingerie, a bra and panty set is a great alternative. One you wear them every day, so you won't feel like you are buying a piece you will only wear once. Two, a high waist panty will accentuate your gorgeous curves.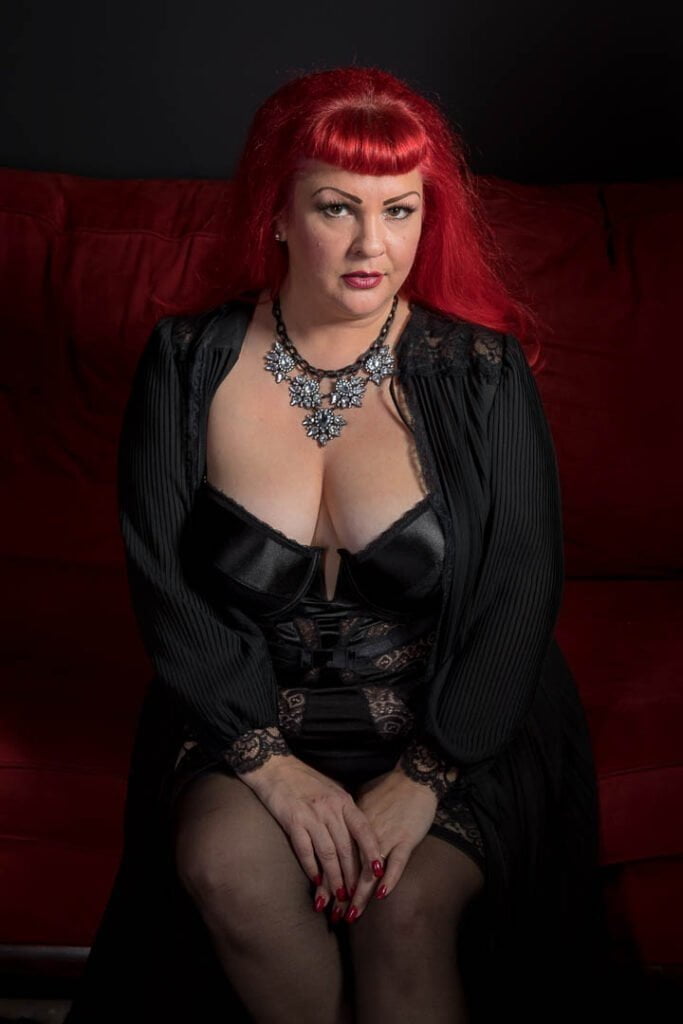 Where to Shop for Plus Sized Lingerie
Here are some of our favorite sites to find beautiful and sexy plus size lingerie!
If you've ever been interested in a boudoir photo shoot, please contact me so I can answer all your questions and schedule a fun & empowering session!